Single Hung Windows
Traditional in appearance, single hung windows slide vertically, reminiscent of a classic-style sash window. Since they open without using any interior or exterior space, they work well in small rooms, next to walkways, or near porches or patios where you don't want a window to protrude.
On a single hung window, only the bottom sash slides upward—the top sash is permanently fixed. They provide excellent ventilation and have screens that are usually installed on the outside of the window to keep out unwanted bugs or debris. On single hung tilt windows, the bottom sash tilts inward to enable cleaning of the exterior face—great for second-story windows! They're frequently used in bedrooms and bathrooms.
---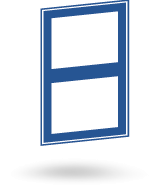 Double Hung Windows
You can't get much more traditional than this classic window style! Both the top and bottom sashes of a double hung window open, with each panel able to slide vertically over the other one. To encourage lots of air circulation, open both sashes halfway.
On certain double hung windows, the sashes tilt inward to enable easy cleaning of the exterior faces of both the top and bottom sashes, which is especially helpful for second-story windows that can otherwise be difficult to clean. Double hung windows are frequently used on walls with limited horizontal space, such as in small bedrooms and bathrooms, but can also be used in other areas of the home. On larger walls, you can combine multiple double hung windows for a classic look.
---
2-Lite Horizontal Slider Windows
A horizontal sliding 2-Lite window, also called a single or double slider, is a popular style for both contemporary and modern homes. Single sliders only have one side that slides open, whereas both sashes open in double sliders. Double sliding windows are a good choice in rooms where you want increased air circulation, particularly if they are the only windows in the room.
A horizontal sliding window can give you an easy-opening window over kitchen counters and sinks. They are also great for satisfying egress requirements in bedrooms. What's more, because sliding windows open without using any exterior or interior space, they work well in areas next to walkways, patios, or other places where you wouldn't want a window to protrude when opened.
---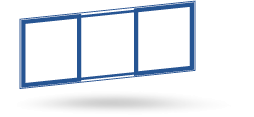 3-Lite Horizontal Slider Windows
3-Lite horizonal sliding windows are great for allowing in loads of natural light, as well as fresh air. With 3-Lite horizontal sliding vinyl replacement windows, there are three panels of glass. The two end panels slide open, while the center panel is fixed.
Sliding 3-Lite slider windows work well on walls where there is plenty of horizontal space, such as in living rooms. They are also a popular choice in bedrooms, as they can satisfy egress requirements while also providing a good amount of natural light. They offer a more contemporary look than the traditional style of double hung windows, but can be used in almost any style of home.
---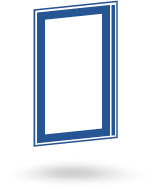 Casement Windows
Do you want to maximize a certain view from your home but don't have a lot of available wall space? A casement window could be the perfect solution! Unlike double hung or sliding windows, a casement window has no rail to obstruct the view but can still be opened to allow in fresh air.
A casement window is hinged at one side and opens outward. Some casement windows are simply pushed open, but most have a hand crank. Screens are placed on the inside of the window, where they're more protected from the elements. If you're installing windows over a sink, counter top, or appliance, a casement window with a crank can be very convenient. One of the things to look for in a casement window is how far it opens. The best ones open up perfectly perpendicular to the house for maximum ventilation.
---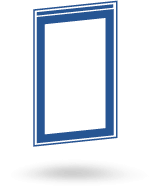 Picture Windows
For unobstructed views where ventilation is not a concern, picture windows are ideal. They maximize the view of the outdoors and bring in the most available natural light of any window style, but are unable to be opened. They are most often used in living rooms, dining rooms, and master bedrooms, and are some of the most energy-efficient windows available when compared to other styles of windows of the same size.
Picture windows are appropriate for any home style—from traditional to modern. They create a portrait-like space on walls—hence the word "picture" in their name. Picture windows turn your view into a living painting and, when large enough, make the outdoors feel like another room. Want views and ventilation? Combine picture windows with one or more operable windows, such as single or double hung windows or casement windows.
---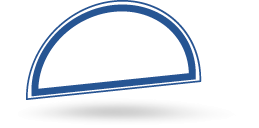 Special Shapes – Geometric Windows
Give your home a customized look with geometric windows. Thanks to a special vinyl forming process, you can add variety and individuality to your home with designer-shaped windows. Specialty shapes, including half-circles, full circles, octagons, and trapezoids, offer unlimited opportunities to add architectural interest to your home. We also offer numerous grid options to enhance your interior design possibilities.
---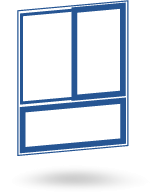 Combination Windows
Combining different window types is a great way to enhance the look of your home.
Some of our most popular combinations include a picture window with a 2- or 3- Lite horizontal slider window above, or a 2-Lite slider window with a half-circle geometric window above. Let us help you come up with a window combination that will give your home a customized look!