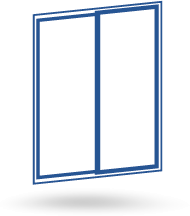 Sliding Patio Doors
Bring the outside in and do it in a big way! Sliding patio doors are an affordable, space-saving way to open up any room. While hinged doors require objects to be well away from the door, a sliding door needs no swing room at all. It opens up a room with a great view of the outdoors and adds light and beauty to your home.
The sliding patio doors we sell have frames made with durable, high-quality vinyl that help make them very energy efficient. They open by sliding almost effortlessly along horizontal tracks at the head and sill. You can choose sliding patio doors with two, three, or four glass panels, depending on the amount of space you have available, and you can also decide which panel(s) will open and close. Options like decorative grids and in-glass pet doors are just a couple of the available upgrades for our sliding patio doors.
---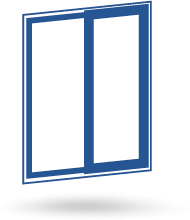 French Sliding Doors
Get the space-saving convenience of a sliding door with all the traditional beauty of a French door!
French sliding patio doors have wider stiles and rails, mimicking the look of French doors and making them a great choice for homes with more traditional architectural styles. French sliding patio doors operate on a track, therefore requiring no extra interior or exterior space for opening. They are available with either right–hand or left–hand operation, depending on what works best in your space.
---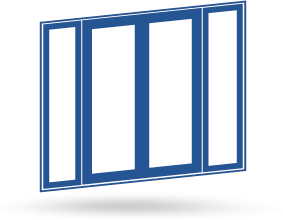 French Swinging Doors
Enjoy the traditional beauty of a real French door! French doors are typically used wherever you want to clearly define interior and exterior spaces while still providing a grand view.
A French door has wider stiles and rails than a sliding patio door. This more traditional look makes it an especially appropriate choice for classic architectural styles. Unlike sliding patio doors, in which only one of the two door panels is operational, French doors have two doors that open and close, giving you a wider opening to the outdoors. You can also choose to add sidelites on both sides of your French doors to give you a more expansive view. When deciding to use an in-swinging French patio door, it is important to ensure there is enough room for the doors to swing in without hitting walls or furniture.